Renting a property has now become a trend to earn extra money every month to improve lifestyle and get into real estate investing. There might be several other reasons that can lead you to rent out your house. If you are new in this field and are thinking about renting your property, you have to consider some important things before you get started. Otherwise, it can create a problematic situation for you, as investing and renting can be more complicated than you think.
Things to consider while renting your property
As a property owner, you have to take all necessary measures to make sure that the whole process runs smoothly without any resistance. Property management strategies must be considered. Here are the most important factors you should consider before renting your property.
Consider the condition of your property
You cannot rent your property straight away without considering its condition. For instance, if your property is not in good condition, then how can you expect to get a desirable rental amount for your property? When you are renting a property, it is your responsibility to provide your tenants with all essential facilities and a well-managed property. Therefore, make sure that your electric supply, plumbing system, sewerage system, gas system, and the water supply is not faulty. Along with this, make sure the interior of your property is also in good condition. Wall paints and flooring should be in stable condition.
Decide the rent
Find the property value of your area before fixing the rent. If your property is in good condition and well furnished, then it is a good opportunity for you to charge a higher amount of rent. Moreover, if your property is at a desirable location, then it will proficiently serve you.
Advertise your property
Marketing the features can get maximum attention from buyers. Social and online platforms can prove to be the best mediums to advertise your property. By advertising, you can give a complete overview of your property to potential tenants at so they can easily approach you according to their needs.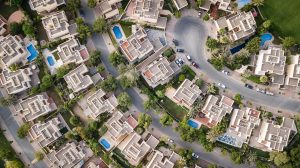 Make a rental agreement
Before you rent your property, make sure you have a rental agreement in your hands that have all the details, including terms of the lease, monthly rent, security deposit, payment address and date, terms and conditions, and other requirements. Therefore, at the time of renting both the property owner and tenant have to sign it.
Register your agreement
The next thing you need to do is to register your agreement for its validity and protection in unexpected situations. It will be used as evidence and surety of the rights for both tenant and owner. A property manager can help with this in exchange for a letting fee.
Have the verification of your tenant
It's important for you to get a police check of your tenant to make sure you are not renting out your property for illegal activities. Moreover, it is a legal obligation, which is necessary for your safety.
Have insurance for your property
Having insurance for your property will help you in various cases. The insurance policy will help you to cover property damage if the tenant ruins your property. Make sure you have rental home insurance, as even the most careful tenants can still accidentally damage a home.
Have a discussion with your tenant
Before renting your house, you should have a detailed meeting with your tenant to discuss all the terms and conditions, so there is no chance of misunderstanding when you both sign the agreement. However, while renting your house, you should be mentally prepared for any unfortunate situation because as a landowner, you have to deal with it.